In Google Ads, you can create compelling video campaigns with a range of video ad formats to engage customers in different ways on YouTube and across video partner sites. Available video ad formats include: Skippable in-stream ads. Non-skippable in-stream ads. In-feed video ads.
YouTube advertising is different than promoting your business on other platforms like Facebook or Google. You need to know the specific creative constraints and consider a lot of possibilities for your next video before you start.
Recent changes to YouTube have made it an extremely worthwhile investment. For example, Google has changed the way YouTube advertising works.
Target Ads Based on Searches
Six years ago, Google announced that it would help advertisers reach more viewers on YouTube by also targeting mobile users. Previously, advertisers were only able to target viewers based on their YouTube behaviour. One of the major changes Google made was that it allowed advertisers to target viewers based on their Google search history in addition.
One of the newest advertising strategies is to target ads at people who have recently searched for a certain product or service. If the content of a video ad aligns with what the viewer has been searching for, they might be more likely to watch the entire ad or click through to your website.
Audio Ads are a great way to get your message heard by the masses.
When it comes to digital trends, audio is arguably gaining in popularity. You don't need to look far, with podcasts and the new Clubhouse app emerging as two prime examples. To keep up, Google recently announced that YouTube advertisers can now create ads that run only in an audio format. Though we recommend starting with a video ad and perfecting your brand voice before branching out into audio options, it's something you might want to consider eventually if you know your audience responds most positively to this format.
We've upgraded our data attribution models to help you provide a better customer experience with your product.
Google has also upgraded YouTube's data attribution models so that you can better track how your users engage with your ads. You'll be able to see the cost-per-conversion and can also determine how well your Youtube ads perform alongside your Search and Shopping ads.
On YouTube, your target audience is more willing to engage with your videos than on Google Search. This means that keywords are less expensive to target on YouTube and typically range between $0-1 per click.
We know that high-quality content is bound to be found, but it's worth being proactive about generating the attention of prospects and educating those who are unfamiliar with you. YouTube ads offer a more engaging way to do just that. It's cost-effective and allows you to target your audience with a form of media they're much more likely to engage with: video or audio.
The Types of YouTube Video Ads
1. Video Discovery Ads
Video discovery YouTube ads show up on the YouTube homepage, search results pages, and as related videos on YouTube video watch pages.
Once a user clicks on the ad, the destination video page features a spot on the right-hand column where a companion banner display ad will appear.
2. TrueView In-Stream Ads (Skippable Ads)
TrueView ads are the standard video ad type on YouTube. Advertisers only pay for TrueView ads when viewers watch or interact with their ad (for example, by clicking on a call-to-action), and videos can be easily customized to share a variety of content.
Advertisers only pay when a user watches the ad for at least 30 seconds or until the end of the video or if the viewer takes an action, such as clicking on a call-to-action. YouTube requires that skippable TrueView ads be between 12 seconds and 6 minutes in length.
TrueView in-stream ads play before someone watches the video they've selected on YouTube. Viewers sometimes have the option to skip the ad after watching it for five seconds. You can also make them play anywhere in the Google Display Network (GDN) — or sites that purchased Google video ad space.
3. Non-Skippable In-Stream Ads
Non-skippable ads can play before, mid-roll, or after the main video. They can be 15 to 20 seconds in duration.
Non-skippable mid-roll video ads appear midway through a YouTube video that's 10 minutes or longer. On the desktop, viewers will see a five-second countdown, and on the app, they'll see yellow markers where the ads are placed.
4. Bumpers
Bumpers are the shortest type of YouTube video ad available to you. At just six seconds per bumper, these ad spots play before a viewer's chosen video. It's also non-skippable.
Bumper video ads obviously can't tell a good-enough story in just six seconds, but they make terrific complements to larger video campaigns on a new product launch or event. Just be sure to use the six seconds wisely, and include only the components of your brand you want your audience to remember.
5. Overlay Ads
Overlay ads are a banner ad that hovers at the bottom of the video, as shown below. This type of ad is ideal to supplement your other in-stream video campaigns. A banner ad is a great way to avoid advertising your product in an intrusive way.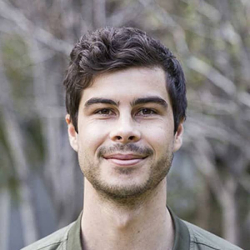 Latest posts by Luke Smith
(see all)