Ad campaigns can help you boost sales by reaching customers from more places across Google. Creating a campaign in Google Merchant Center will advertise your products across Google Ads channels like YouTube, Search, and Discover. Your ads can show rich product information like images, prices, and store names.
Shopping ads on Google have delighted shoppers and advertisers alike with more than 60% of all clicks coming from this type of ad. For our clients, Shopping ads consistently deliver the highest return on ad spend of any paid channel.
Shopping ads on Google are smarter and more user-friendly than ever. Now they're easier to set up and come with broader reach. In this guide, we'll show you how to set your products up in Shopping ads. You'll learn how to take advantage of these improvements.
What are Google Shopping ads?
Shopping ads, sometimes referred to as product listing ads or PLAs, are the product ads that appear at the top of Google search results. The two platforms that control these ads are Google Ads and Google Merchant Center.
Shopping ads are not just for Google's standard search. They are also visible in the Shopping tab, on partner websites, and on YouTube.
With more people shopping online every year, Shopping ads provide us with more opportunities to reach our desired target audience. And because of the popularity factor, Google has been steadily expanding their reach, which just increases our chances!
How to set up Google Shopping ads
Shopping campaigns in Google are supported by two main platforms: Google Ads and the Google Merchant Center. Google Ads is where your shopping campaign lives and is where you manage your budgets, bids, insights and optimization.
What is a product feed? It's where Google stores information about products and pricing on your website. We'll explain in more detail in just a minute. For now, you should know that the feed helps Google build ads on their pages that promote your products. That is, it includes details about the product and pricing on your site so they can display them to shoppers when they're looking.
The setup and management of Shopping ads is quite different from the setup for traditional text ads. With Shopping, Google uses your feed, site, and other factors to determine what search queries will trigger your ads. That's why setting up your product feed has many similarities to ecommerce SEO.
1. Create a Google Merchant Center account
Google Merchant Center is where your feed lives. It's also where you can set tax and shipping rules, all of which are required before running Shopping ads.
2. Choose a campaign type
Performance Max ads (formerly Smart Shopping)
Sign in to your Google Ads account
Click the + New campaign button
Choose the Sales objective
Set up a conversion goal
Select Performance Max
Then, choose the account to run ads from and select the country you'll run the ads in.
Choose a campaign name then click Continue. Be sure to pick a campaign name that is descriptive and stands out.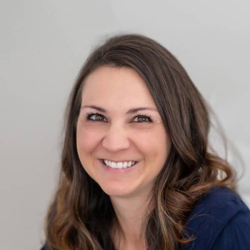 Latest posts by Meggie Powell
(see all)